Rome - The Eternal City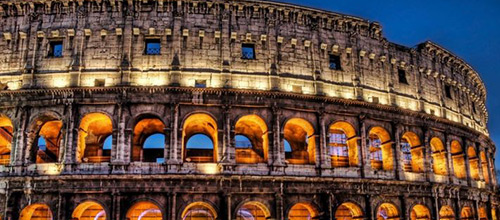 Thursday - September 7th- "There is NO PLACE like Rome!" Having been the center of one of the world's greatest civilizations ever, Rome has exerted a huge influence over the world and still captivates visitors with her beauty. Bella Roma has been a dizzying mix of architecture and style for nearly 3,000 years; think of magnificent, historical architecture surrounded by Vespa-choked streets, and picturesque piazzas dominated by trickling fountains. Amore (for the city) is always in the air.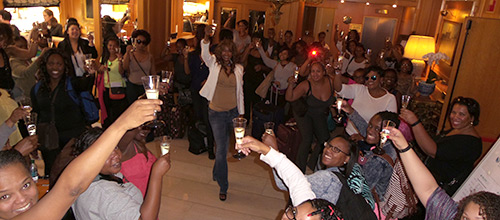 WELCOME TO ROME! Upon arrival, you will transfer as a group by private deluxe motor coach to your hotel near the Vatican City where you will have time for a quick shower before your walking tour that will start with a metro lesson and tour orientation lunch (included in package). For group transfer, you must arrive no later than 9 am at Rome's FCO airport.
After lunch, you will Roam around Rome as you visit Piazza del Popolo and the Spanish Steps. You will then visit Giolitti for the best gelato in Rome. It is also where the before returning to the hotel. Later, you will have dinner with the girls and your first night of mixing and mingling in Rome.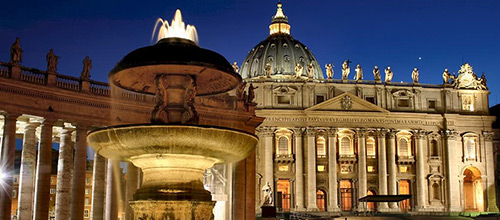 Friday - September 8th - Today your morning will start with a visit to Citta del Vaticano (Vatican City) where you will meet your local guide for a tour of St. Peter's Basilica. Originally founded by Constantine in 324, St. Peter's Basilica stands on the traditional site where Peter - the apostle was crucified and buried. St. Peter's tomb is under the main altar and many popes are buried in the basilica as well. You will have a chance to walk through the Porta Sancta (Holy Door) that is only open during a Jubilee (Holy Year), which occurs every 25 years.
Before the St. Peter's tour, you can take an optional tour of the Vatican Museum where your expert guide will lead you through the many galleries which lead up to the Sistine Chapel. There you will have a chance to admire Michelangelo's recently restored frescoes which adorn the vault of the Chapel and his famous "Last Judgment."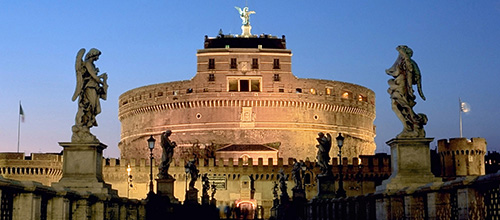 After lunch near the Vatican, get ready for one of the biggest higlights of the tour.
ZOOM, ZOOM!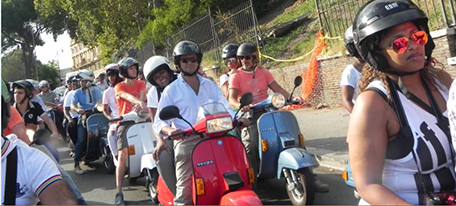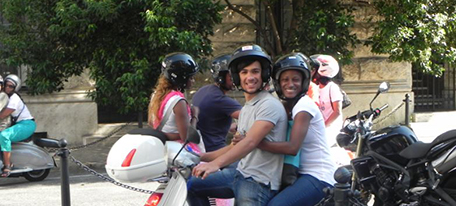 Get ready for a magical after to remember! Rome is beautiful during the day but magical at night! Italian men on Vespas (motor scooter) will converge at the hotel to whisk you away on a private evening Vespa tour. Hold on tight to your handsome Italian driver as you zip and zoom around Rome with stops at such sites as the Colosseum, Pantheon, Castel Sant'Angelo, and Trevi Fountain. Originally, the Pantheon was a temple for pagan gods that was converted into a church in 609 AD. It contains the tombs of Raphael and several Italian Kings. At the top of the dome is a large opening, the oculus, which was the only source of light. No trip to Rome is complete without a stop at the Trevi Fountain. The water at the bottom of the fountain represents the sea. Legend has it you will return to Rome if you throw a coin into the water. You should toss it over your shoulder with your back to the fountain (Rome). Check out our vespa tour.
After the tour, you will have some free time to shop before heading back to the hotel to change for a night under the stars "Italian Style" :-)..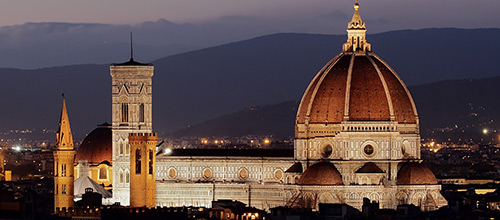 Saturday - September 9th - Under the Tuscan Sun! Today we are off by train to Florence, the capital of Tuscany, founded by the Romans in the 1st century. Florence is the home of the Italian Renaissance and capital of the Tuscany region. Botticelli, Michelangelo and Leonardo da Vinci all left their mark on Florence, the cradle of the Renaissance and Tuscany's alfresco museum. With the graceful Duomo as a backdrop, follow the River Arno to the Uffizi Gallery so that you can soak in the Old Masters paintings. The day will start with shopping at a designer outlet mall before a walking tour and free time in the center of Florence at the famous open air market know for incredible leather goods. If you are a culture vulture, visit the Accademia to see Michelangelo's David. Foodies, grab a table to sample seasonal Tuscan cuisine in an authentic trattoria.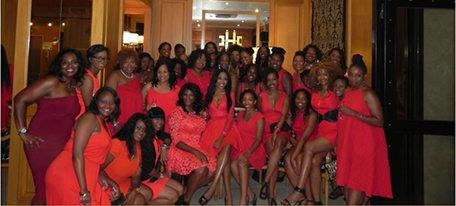 Afterwards, head back to Rome to get ready for a extra special "Ladies (bellas) in Red," evening. Fleace has worked with her friends to ensure this will your biggest night in Rome and a night to remember. The evening will start with a dinner (not included) followed by a night of partying at one of Rome's most exclusive night clubs. This is also the night we celebrate our birthday girls. What happens in Rome ....
Venice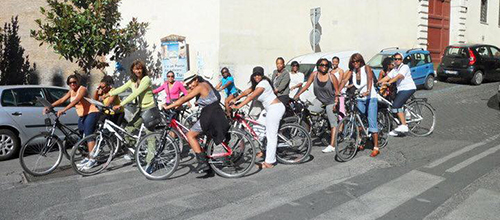 Sunday - September 10th - Your free day in Rome will start with biking in Villa Borghese. In 1903, the city of Rome obtained Villa Borghese from the Borghese family and the park was opened to the public. The 80 hectare/148 acre large park now features a wide lake, shady lanes, several temples, beautiful fountains, museums, and many statues. After the visit, you can have the bike for up to 2 hours to explore Rome on your own.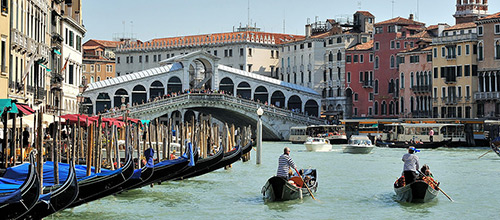 Another choice is an optional day trip to Venice. What better way to sleep off a night of partying than to sleep on the train to VENICE! No words can truly prepare you for the beauty and uniqueness of Venice. Venice is one of Italy's most beautiful and romantic cities, built on the water in a lagoon with small, motorized traffic-free streets along the winding canals. It actually consists of 117 bodies of land connected by more than 400 bridges over its 150 canals. Upon your arrival, you will meet your local guide and take a water bus to Piazza San Marco (St. Marks) to start your walking tour. After the tour, you will have time for lunch on your own. You may also chose to explore the water wonderland and/or enjoy a gondola ride through the scenic canals. At a designated time and place, meet the group for your return to Rome.

If you can hang, join us later for drinks at the Ice Bar.
Ponza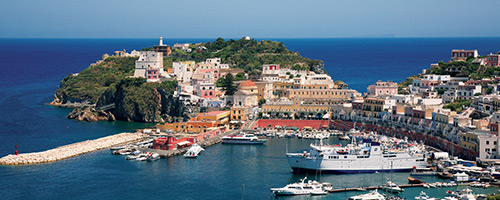 Monday - September 11th - During the summer months, tourists head to Rome while Italians head to the mare (sea) to take in the sun and party till they drop... and so shall we. After hitting it hard in Rome, it is time to turn it down a notch for some island life. This morning you will check-out and depart by private coach to catch a boat to the Island of Ponza. Ponza has it all: the island magic, the crystal Mediterranean waters, the authenticity of a destination off-the-beaten-path unknown by most tourism. While visiting, many people will ask how you found out about the island. That is the question asked to one foreigner! Can you imagine what it will be like when 50 Black American women arrive. Talk about taking an island by storm. You will have people talking and gawking. Get ready for celebrity status!!
On your arrival to the island, meet your local guide that will escort the group to our hill top hotel overlooking the sea. The view will be stunning!!! After check-in, toss your bags in the room and head to the port for a walking tour and island orientation and may be a suprize or two.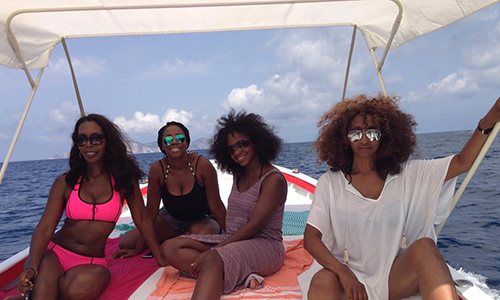 Tuesday - September 12th - Enjoy a free day exploring the island. Head to the beach or kick back and sip Italian Mojitos at one of the two swimming pools at the hotel. For those that want more, you can head out with Fleace and do are the Roman's do ... head to the sea by booking our optional boat tour with a hadsome skipper (what else would you expect from BGT). Grab your swimsuit, suntan lotion, wine, and eats as you board one of the private boat rentals. Each boat will hold 4 to 6 ladies. Enjoy swimming in gorgeous crystal clear blue water with breathtaking views between sailboats and yachts.

If you are like Fleace and not much of a swimer, just lay back under the sun as waves lull you into sweet relaxation. Ahhhh ... the good life! Depend on sea levels, you will also visit the Grotto of Circe, where the seducing sorceress of Homer's The Odyssey turned Odysseus' men into animals.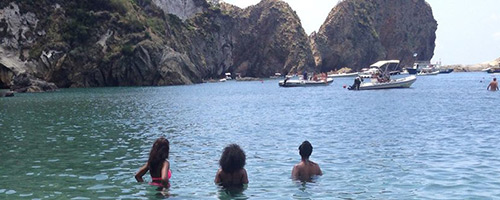 The boat will make a few stops, so you can swim among the anchored yachts. Why not channel your inner siren or mermaid and make some new friends. ;-)
Later in the day, head back to the island and meet up with the other ladies for dinner before a night of live music and dancing open air.
Positano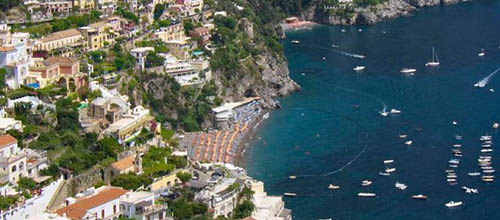 Wednesday - September 13th - This morning we are off by boat to Positano is a cliffside village on southern Italy's Amalfi Coast, with a beautiful beachfront facing a sea filled with private boats, narrow streets lined with boutiques and cafes. Make sure to get a pair of custom made-to-measure jeweled sandals that will be the envy of you friends back at home. Your friends at home will be so Its Chiesa di Santa Maria Assunta features a majolica-tiled dome and a 13th-century Byzantine icon of the Virgin Mary. Feel free to bask in the Mediterranean sun while lounging on the beautiful beaches of Fornillo or Spiaggia Grande, or explore the nearby mountains to see beautiful waterfalls. For those a bit more daring make your way up to the secret hamlet of Nocelle to discover the Panorama view of the Gods. An optional cooking class will be offered. Later have your cameras ready as you watch the beautiful amber sun melt into the sea before heading back for your last night in Ponza. We will turn the island out!!!!

Naples and Pompeii


Thursday - September 14th
Today, we will board a boat back to the mainland and head to Naples. First stop a guided excursion to near by Pompeii, the Roman city destroyed yet preserved by the eruption of Mt. Vesuvius in 79 A.D. Here your expert guide will lead you through Patrician homes, public baths and commercial centers of this once thriving Roman resort...a true glimpse into the past. After the tour head to Naples, known as Rome's gritty chaotic cousin. It is one of the most fascinating places in Italy and unlike anywhere else in the country. Italians are not big users of clothes dryers, especially in the south. You can tell the weather forecast by the amount of clothes hanging to dry overhead in Naples. We are hoping for sunny, clothes filled day! Naples pizzeria Brandi where Raffaele Esposito is credited with creating the Margherita pizza in honour of a visit to Naples by King Umberto I and Queen Margherita of Savoy. The pizza follow the colours of the Italian flag, the tomatoes for the red, basil for the green and Mozzarella for the white the patriotic pizza enjoyed around the world. Longtime favorite Da Michele — which, particularly since its incarnation in Eat, Pray, Love, has become a hot spot. You will have time to wander its many charming tiny streets for some amazing bargain/really cheap shopping before heading back to Rome for your last night in Italy.
Rome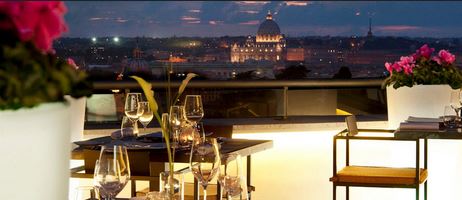 In a short period of time Rome seems to have not only caught up, but overtaken many of the best bar scenes in the world. New bars are opening and what was hot yesterday could be shot tomorrow. You must know someone that is on top of the ever changing night scene. Luckily, you KNOW someone! As always, Fleace will make sure your last night in Italy will be one to remember. You can also choose to Depart Rome on late evening flight.
Rome/USA
Friday - September 15th -Today your Italian sojourn is brought to an end. This morning after breakfast, you'll be transferred to the airport to board your flights back to the USA, returning with fond memories of your time spent in this most special destination. Group transfer time from the hotel will be determine after the optional group flight has been arranged. Taxis to the airport is about 48 euro and can be divided by upto 5 people when shared.

Buon Viaggio!
Don't think you will be ready to leave! Ask about extending your visit for 2 or 3 extra days and spend another weekend in Rome, departing on Sunday or Monday morning before noon.