We offer a courtsey transfer to those booking their own flights, is your arrival into Thambo Airport is by 8am on December 6th.
Johannaseburg


December 6th - WELCOME HOME! You will arrive in Johannaseburg. 5,700 feet above sea level, Johannaseburg -- more commonly referred to as Jo'burg or Jozi for some is considered the "heart and soul" of the country, it is a city that remembers its turbulent past, but looks towards the future. Joburg is largest and wealthiest city in South Africa's Gauteng province and is truly worth exploring. It is a melting pot of culture, colors and languages, the fruit not only of liberation but also of a influx of immigrant which has created a unique cosmopolitan enviroment and history. Upon arriving at the airport you will meet your local guide and board one two scheduled private transfer buses to the hotel. Once checked-in, meet the other other BlackGirlTravel.com FlyGirs before taking time for a little post flight R&R before a special welcome lunch and tour orientation.

Later a fun dinner meet locals residents that we recount the history of Johanannaseburg then work off your meal leaning native songs the limpopo province.
MLK's South Africa speech

December 7th - After breakfast you will board a private bus for a cultural tour that will start in the township of Soweto (meaning Southwest Township), the humble former home of Nelson Mandela and explosive riots on June 16, 1976, when schoolchildren took the struggle against apartheid into their own hands. Hundreds of children around the country died on this day, but South Africa was never to be the same again – the slow road to democracy had begun, culminating in the elections of 1994 of Nelson Mandela for president and the established of democracy that ended three centuries of white-minority apartheid rule in the country. You will also visit the Apartheid Museum where your entry ticket will be plastic credit-card size card indicating either "Non-white" or "White", with card you will began your harrowing journey back in time. Have a happy hour in Soweto with locals. Later return to the hotel in time for dinner, followed by a evening of local entertainment.
Joburg have become a hot spots for jazz and "kwaito", a Soweto-born adoption of hip-hop.
Safari


December 8th - Today it time to pack your bags and take off for a walk on the WILD SIDE! Say goodby to Johannaseburg as you are tranfered by private coach to a luxury game lodge. On the way to the Safari camp, you will visit the After the tour you will have time for lunch (not included) before traveling to Mpumalanga to see the The Bourke's Luck Potholes, one of the most magnificent sites in South Africa. The cylindrical potholes, known as 'giant's kettles', are the result of swirling river water eroding the pools for centuries. The sight is rather beautiful, as the pool walls have been sloped smooth over the years by the kolks, revealing a sprawling network of interior lines and layers. Then you are off to a "REAL" South African tribal village and learn local customs and tradition. Everyone is asked to bring a small gift to give as a token of appreciation to village for the women or their children ages 2 to 17 years of age. Gently used clothing can also be given. Used items should be clean and ironed. See one of the videos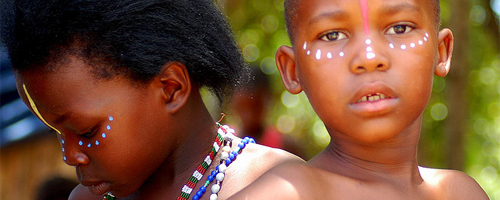 Next, it is time to walk on the wild side! The lodge you will be divided into small groups climb aboard Safari jeeps, where after a briefing you will be whisked away from civilization as the sights, sounds and smells of the bush take over. You will ride in the jungle on the hunt for the BIG 5! Expect to be amazing by the sheer diversity and numbers of its animals. Your iconic African safari will include a dramatic landscape of forest, savannah, river mountain -- rich in lion prides, elephant herds and thousands of other animals whose secrets are revealed by expert game trackers.


Return to the lodge for a sunset dinner and evening of bonding with girl talk under the stars around a campfire. Oh, I forgot to mention dancers! Only on a BlackGirlTravel.com tour do you get male dancer in the jungle! ;-) Yep, that is how we do it! Time to make it rain! lol!!

December 9th - One day is never enough for an African Safari! Today you adventure continues with jeep pick-up at the lodge and the groups mixed up by drawing numbers which will add to the group bonding experince. You and you new jeep mates embark to different part of the jungle for another day of adventure in the wild followed by dinner and a mixer at the lodge.
Cape Town

December 10th - Get ready for the weekend and party BlackGirlTravel style! After breakfast at the lodge you will be transfered to the airport for your flight to Cape Town the jewel of South Africa and playground of the rich and famous. Prepare to be seduced by the sexiest, most sophisticated city on the continent and one of the most beutiful in the world. Cape Town is the second-most populous city in South Africa and the largest in land area. One of only two cities in the world with a national wilderness park running through it. Cape Town is a jaxtaposition of city and wilderness. Its beauty is a magnet for illstrious visitors and a favorite for celebrities ... like us! :)
Get ready to Party like a rock start as you get your first taste of South African night life.


December 11th - Your day in Cape Town will start with a ferry ride to Robben Island. From the 17th to the 20th centuries, Robben Island served as a place of banishment, isolation and imprisonment. Nelson Mandela spent 27 years of his life in exile on the Island. Today it is a World Heritage Site and museum, a poignant reminder to the newly democratic South Africa of the price paid for freedom. The Prison tour depicts the lives of political prisoners detained from the 1960's to 1991. Former Robben Island prisoners will conduct a powerful tour that will include Nelson Mandel's former prison cell. After the tour head back to the mainland and a stop atop Table mountain.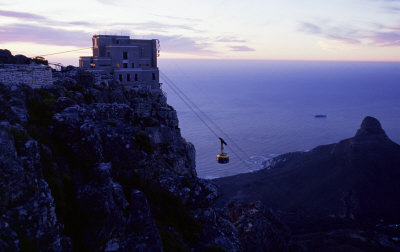 There is escaping the sheer dominance of mother nature in South Africa and the city's most alluring landmark Table Mountain. Once the preserve of leopards and lions, the flat-topped chuck of rock that is part of a chain of peaks that stretches northward inland and south into the peninsula with cliff below ever-pounded by the south Atantic. The steep aerial cable car ride up is journey and view not to be missed. Atop the mountain take in the breathtaking 360 degree panoramic view of land and ocean. After you ride down, it is time for a diamond lesson and shopping. Retun to hotel for a little R&R before heading out for your second night of Cape Town night life. Did some say Birthday cake? This night we will also celebrate our birthday girls.
December 12th - Shop til you drop! Meet in the lobby to to visit the African Market place. When it comes to shopping, Cape Town has something for everyone— from sophisticated malls to amazing open air markets. Although African art and curios are obvious choices (and you will find some gems), South Africans have woken up to their own sense of style and creativity, and the results are fantastic and as diverse as the people who make up this rainbow nation. Don't forget to check out the beautifully designed handbag made by HIV-positive women working as part of a community development program. If shopping is not on your list, enjoy your free day at one of the beachs.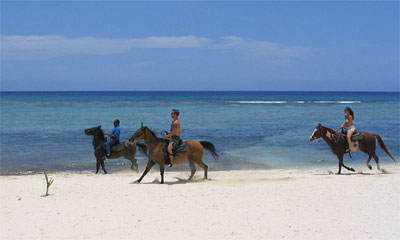 About 25 mins from the hotel is a favorite, Boulder Beach, part of Table Mountain National Park, the beach is best known for its resident colony of African penguins. You must stay out of the fenced-off breeding beach, but don't be surprised if a wandering bird comes waddling up to you to take a look. Penguin-viewing platforms, accessible from either the Boulders Beach or Seaforth side, provide close-up looks at these comical birds. When you've had enough penguin peering, you can stroll back to Boulders Beach for some excellent swimming in the quiet coves. You could also take an optional tour to the Cape of Good Nature Reserve at the end of the cape point. Situated at the junction of two of earth's most contrasting water masses - the cold Benguela current on the West Coast and the warm Agulhas current on the East Coast, the Cape of Good Hope is popularly perceived as the meeting point of the Atlantic and the Indian Oceans. Take the funicular to the vantage point from where you are able to witness the "meeting of the two oceans". In the evening meet at the pool for a final toast with South African wine.


Cape Town

December 13th - Before or after breakfast, move your luggage to the hotel baggage check-in then head out for your last look around the city. Later your sojourn is brought to an end as you ride to Cape Town International airport.
USA
December 14th - Arrive back to the States
As with all travel international travel local changes sometimes happen that can effect plans. We reserve the right to make changes in the itinerary including dates, if necessary due to weather conditions and/or other factors beyond our control or to enhance your travel experience.
BlackGirlTravel (CST #2094347-40) is a registered
Seller of Travel under the California Seller of Travel Law.. .