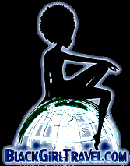 An American Idol in Italy
by Kinnk Sky

2010 Was off to a Bang!! I was new in LA and a winner of Blackweekly.com and Ahmanson Theatre's Dreamgirl competition and was told that I was headed to Rome, Italy as part of BlackGirlTravel.com's annual Bella Italia tour! Like a schoolgirl waiting for the first (or last) day of school I tried to push the impending trip out of my mind since it was 7 months away and too much excitement for my brain to handle until then! I kept hearing and reading so many amazing things about the trip in preparation for the trip because the founder of BlackGirlTravel.com, Ms. Fleace Weaver does such an amazing job ensuring that her years of travel and experience are benefited by her Bellas (what the ladies on tour are called). ALL information needed to know, whether it's money exchange or what NOT to wear, we got prior to departure! It was bitter sweet because I was definitely prepared but not as able as I would have liked to keep my excitement to a minimum so that I could get thru daily activities. Who wants to work or live when you know a trip of a lifetime is hanging in the balance! It was February and all I wanted to do was pack and sit on my bed and wait for my ride to the airport!

After every emotion ever created was felt, excitement, nervousness happiness, joy, and fustration (about having to wait) it was FINALLY time to GO!! And go I did! Myself along with 68 other amazing black women convened in an JFK airport and embarked on a trip of a lifetime! Just meeting and starting to get to know these phenomenal women was over-whelming! I learned so much and grew as a person during my time spent on this traveling sisterhood. I had 10 awesome days to relish in these new found friendships! Um... yeah.... so in all the preparation Ms. Weaver forgot to prepare me for Amazing Women Over-load Syndrome (Also known as A.W.O.S)!

As prepared as I was, there was truly no way that all the emails send could have truly prepared me for the experience. Had I gone home after I took the water taxi from the airport to the hotel in Venice, it would have felt all worth it! But that was not where it ended that was just the beginning! Breathtaking, Amazing, unfreakingbelievable, sensational, pinch me am I dreaming..... shall I go on???

| | |
| --- | --- |
| | |


We toured seven cities in Italy. Not one not two not three.....well you get my point. Who does that??? Most people are just happy to get to Italy but to see and not just see but EXPERIENCE seven cities with BlackGirlTravel.com is CRAZY! UNHEARD OF! OVER THE TOP! But those are all the things that a trip with Fleace Weaver consists of!!! Had I not seen it for myself no one could have made me understand that!

| | |
| --- | --- |
| | |


From the Gonzala ride in Venice to the ridiculously fun Vespa ride and amazing partying in Rome, toshopping in Florence, and relaxation sea side in Taormina, anyone having the opportunity to experience this would be NUTS not to go for themselves. Memories and friendships of a lifetime. If I never go another place ( but I will …..are you kidding me!!?!?!) This trip was worth all the sleepless nights and days of marking the calendar off to see another world...... for myself!

Veiw Kinnk's segment about her trip.


To view more pictures and videos or for information on joining Bella Italia 2011 this September, visit www.BlackGirlTravel.com/italy

Other all female tours offered in 2011: Spain, France, Egypt and Italy for more details on these tours visit www.BlackGirlTravel.com

---


About Kinnik Sky
Singer, actress, and host Kinnik is a veteran of the stage, film and screen. Her phenomenal talent and undeniable stage presence was confirmed by finishing as a Top Finalist in the mega hit show American Idol. Her major theatre credits include DreamGirls, For Colored Girls and Madea's Class Reunion. Hollywood and Broadway has taken notice of her star power. Kinnik has extended her reach into the Internet and is the Executive Producer and host of refreshing new web-series featuring celebrity and entertainment news which can be seen at www.Straightfromthesky.com.




©Copyright 1997 -2011 Blacweekly.com, Inc. All rights reserved.
Duplication of any portion of this content is expressly forbidden.


Please forward this to all your fun loving friends!



BlackGirlTravel.com
"Not Your Grandmother's Tours!"