Bella Italia 2009: La Dolce Vita (The SWEET Life)
by Noelle Miller
"Ciao Bella! (Hello/Goodbye Beautiful)" – This was the greeting the ladies of BlackGirlTravel.com's Bella Italia frequently heard during our 10 day whirlwind trip through Southern Italy.
In the Spring of 2008, I made my initial trip to beautiful Italia (Italy) with a friend. For the better part of a month, I spent many painstaking days mapping out our itinerary: where we would stay, where we would eat, what we would do. During that particular trip, we visited several cities and caught up on much deserved R&R. It soon became clear that I had developed an immediate affinity for Italy. The moment I boarded the plane back to the States, I knew I needed to find myself back in Italy quickly.
For my return trip, I wanted to experience and enjoy Italy without the added stress of coordinating all my activities. As a young woman in my mid -20's, I also wanted to break away from the traditional tourism activities – I wanted to party with the Romans, dine with the Sicilians, and just maybe, fall in love on the Isle of Capri. Anything and everything is possible!
Due to the current exchange rate, Italy is not an economical vacation, and as a result, I could not find any friends who were willing to travel along with me. (Once you arrive in Italy, you will know that you spent your money well.) During my search for a travel buddy, I came across BlackGirlTravel.com's Bella Italia founded by head Bella and visionary Ms Fleace (pronounced Fee lee che) Weaver. The itinerary detailed exactly what I had been seeking: culture, class, entertainment, shopping, parties, and philanthropy at an unbelievable price. It was almost as if I had created this tour for myself. "It's definitely not your grandmother's tour!" Within a few days, I sent in my deposit and was geared up for my tour of Southern Italy.
Italian men are well known masters in the art of romance, and I can attest they could charm the birds right out of the trees. I always heard that many Italian men had an affinity for Black women, but was it really true? I eagerly made it a point to find out. During my trip in 2008, I departed the plane sleep deprived, make-up free, tussled hair and wearing sweatpants – a self defined "hot mess"! By the time I collected my bags and departed the airport, I already collected 2 phone numbers. Ladies, this was just the beginning! Knowing this, I could only imagine the attention we were sure to receive once 43 beautiful African-American women descended upon Roma.
Our overnight flight from JFK arrived at Rome's Fuimicino airport at 7:50 A.M. carrying 43 women experiencing an amalgamation of extreme jet lag and pure elation. BlackGirlTravel.com's Bella Italia had officially begun! Although I had been to Italia the previous year, I found myself just as giddy as the other Bellas (name for ladies on tour) who were taking their inaugural trip to Italy.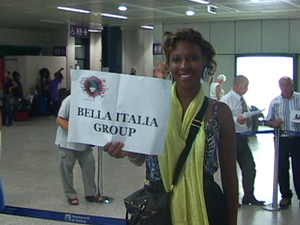 Andrea, our Italian Tour Escort waiting on
our arrival at the Airport in Rome
Rome is the largest citta (city) in Italia, due to gas prices ($9.03 a gallon, the 4th most expensive in the world) Romans both rely on public transportation and walk "everywhere'. And of course, when in Rome...you do as the Romans do! Men and women peruse the streets in suits and stylish sunglasses, hopping on and off the Metro, or zooming around on their tiny Vespas (motor scooter). The historic cobblestone streets don't prevent the Italian women from rocking their 5 in. stilettos and it most definitely didn't stop our Bellas either!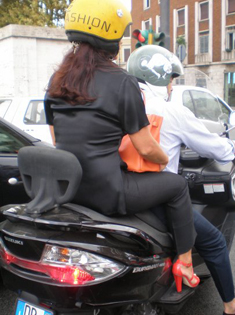 Shortly after arriving in Rome, we were walked 2 blocks to the nearest city bus stop for a short ride to the subway. While in the subway we were given a Metro system lesson and passes along with a map of the city that identified the stops closest to the tourist attractions. This small yet thoughtful activity allowed us to be more independent and explore this ancient city on our own schedule during free time, just one of the unique components of the tour.
Before we ventured out for our first night on the town, Bella Fleace arranged a wine mixer in the hotel lobby for pictures and socializing. One by one, each Bella descended upon the lobby wearing the latest moda (fashion) in an array of eye popping styles and hues. As I had imagined, we were turning heads before our heels even hit the cobblestone.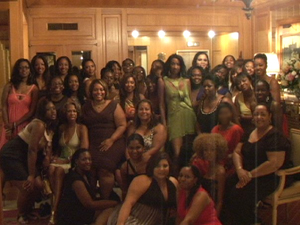 Bellas in the lobby 1st Night in Rome
Our first adventure that night was a private Rome by Night tour on an open aired bus. We rode past several of the famous historical sites including the Coliseum and St. Peter's Square. Still happy to be in Rome, we waved to people as we drove by, and blew kisses to the men at the sidewalk cafes. It was the foundation for a fabulous night: wind blowing through our hair, laughter filling the air, champagne toasts, a full moon and a stop at the breathtaking Fontana di Trevi (Trevi Fountain). The Trevi Fountain is the most famous and arguably the most beautiful fountain in all of Rome. Legend says that if you toss a coin into the fountain over your shoulder, you will one-day return to the eternal city. I tossed ten!

Our private Rome by Night tour

Bella Jessica, me, Bella LaVenus, &
Bella Lauren at the Trevi Fountain
Our first arrival that night was at JetSet, an exclusive outdoor nightclub and restaurant, where we were escorted to a special VIP Bella Italia section. While waiting for the arrival of our food and drinks, several Bellas shimmied out to the dance floor and soon had a crowd of admirers circling to catch a glimpse. Calle Ocho, a familiar song in the USA, echoed from the speakers as we broke out into the Cupid Shuffle. This song/dance combination would later become our signature group dance at each nightclub visited during the tour. After JetSet we headed to another party at La Maison, located along the Tiber river at the same site as the famous club/dance/fight scene in the movie Roman Holiday with Audrey Hepburn.


Bella Italia Founder Fleace Weaver &
one of our admirers at JetSet

Bellas partying at La Maison until 4am
Another night in Roma we partied at ultra private Casina Valadier, on the grounds of Villa Borghese. A candlelit red carpet greeted us as we strutted in one by one, in our new dresses like models on the catwalk. And, one by one, heads turned. Not accustomed to seeing so many African-American women at one time, one woman asked if we were from the American Embassy. Through the course of casual conversation, several people commented on my skin complexion, stating they felt brown skin was the most beautiful in the world. Wow! That's not something you hear often in America! And yes, the men CAN charm the birds out of the trees. As one so elegantly told me, "you are not a woman, you are a paradise." I resisted the urge to cover him in bubble wrap and have him shipped straight to Missouri!

Casina Valadier at night

Bella Fleace' & Bella Andrea on the grounds of Casina Valadier

Bellas walking the red carpet
All eyes were on the Bellas as we sashayed to Calle Ocho once again. One by one, the Romans joined us on the dance floor as we gave Cupid Shuffle lessons and grooved to the sounds of the DJ. Later we formed a Soultrain line where our Bellas and the Italians displayed their best "American" dance moves. A few of the older Bellas, dubbed "The Golden Girls", were seen dancing to the grooves as well. One Golden Girl, Bella "Can Do" (because at 60-something, NOTHING stopped her from having a good time) was found "getting low" at Nabula in Naples. It was definitely a sight to see!
Each night in Rome and Naples, we would dance and socialize with the locals until the wee hours of the morning. We were often awake by 8:00 in la mattina (morning), one by one gathering in the breakfast room to nourish our bodies with an Italian/continental breakfast. The typical Italian breakfast consists of a hot beverage, like cappuccino or caffe, coupled with something sweet to eat - cake, cookies, pastries, brioche, croissants, or toast and jam. Croissants are sometimes loaded with local meats, including prosciutto. So remember, American breakfasts are highly uncommon in Italy.
Everything is smaller in Italy – people, hotels, vehicles, meals, etc. Our hotels were relatively close to main sights and in safe neighborhoods. We stayed in nice 3-star hotels, with an optional 4-star upgrade at each destination. All of us chose to stick with the 3 star options (more money to spend on boots, leather jackets and new heels!). By lodging us in 3-star hotels, the tour organizer was able to add other unique activities to the tour like a private open air bus, private transportation between seven cities (yes, 7), an English/Italian speaking tour escort throughout, a hydrofoil to the Island of Capri, roundtrip domestic air to Sicily and a private 2-hour male escorted Vespa ride – My favorite! Alas, we did not travel to Italy to sleep; we came to experience the beauty, expand our horizons, and have lots of fun in the process.
The Vespa tour was THE reason I signed up for Bella Italia. Long before we departed for Italy, we were informed by Bella Fleace, that 43 handsome Italian men would be pulling up on Vespas in front of our hotel for our 2-hour guided tour. Like children in a candy store, we could choose our driver- first come, first serve. The night before the anticipated tour, we were reminded to make sure we had a wake up call because the Vespa drivers would be pulling away promptly at 10:00 AM. Sure, easy enough. I was planning on waiting at the curb at 6 A.M. to make sure I had first choice!
The next morning I woke up to the sounds of an Italian housekeeper chatting away to herself as she peered out of my window. It took me a moment to realize what I heard in the background were Vespa motors! I leaped out of bed and ran over to the window before nearly going into cardiac arrest.
All the other Bellas were sitting on the back of their chosen Vespas, gearing up to ride away...without me! I ran to my suitcase, combed my hair, threw on some clothes, my sunglasses and ran through the hotel lobby with a time that would make Flo-Jo jealous. Awesome, I flew to Italy looking forward to THIS ride, and now I was going to be stuck with Quasi Modo's twin brother – a thought that nearly made me throw myself down on the sidewalk and hold myself in the fetal position. Then, he came!
A lone dark haired Vespa driver pulled onto Via Santa Lucia- like me, he was running late. He had midnight black hair with the most gorgeous green eyes I'd ever seen – and he was completely "bella-less". I may be slightly biased, but he was the finest of them all. I hopped on the back of his Vespa, wrapped my arms around his finely toned stomach and thanked my lucky stars. (Please believe I didn't let go!)
| | | |
| --- | --- | --- |
| Metteo helping me with helmet | | I could have rode all day! |
As we zoomed around St. Peter's Square at the Vatican, the majestic Coliseum, and other historic sites, Matteo and I carried on a conversation with a mix of broken English and Italian. He told me he felt honored to drive me around – Hey bello (hey handsome), the feeling is mutual! Whenever the parade of Vespas stopped at streetlights, locals and tourists took pictures of us, many of them clapping at the site of so many brown skinned beauties. In unison, the Vespa drivers honked their horns in a symphony which seemed to get everyone more excited. One of our stops was at Piazza del Popolo (Plaza of the People) to take a group picture. I couldn't leave Italy without getting a picture with Matteo- before I knew it, several of the other Bellas were snapping pictures with him as well. I couldn't blame them – he was the epitome of the term "Italian Stallion".
| | | |
| --- | --- | --- |
| Bellas entering St. Peter's square | | Our group shot at Piazza del Popolo |
All good things must come to an end, and so did our Vespa tour. Matteo wanted to know my plans for the night and if another Bella and I could possibly meet up later with some of his friends at Campo dei Fiori, another popular piazza with many cafes, restaurants and bars. Yes, yes, and yes!
During our last morning in Rome, we geared up for our tour of the Vatican- including St. Peter's Basilica and the Sistine Chapel. I seriously considered skipping out on this tour and doing my own activities instead until I realized that one must visit the Vatican once in your lifetime. Again, When in Rome...! Like a gentle shepherd dog guarding her flock, Bella Fleace lead us thought the massive buildings and thousands of tourists, occasionally barking (lol) "keep it tight Bellas" to prevent us from being separated by the enormous amount of people flowing in and out. The whole experience can be summed up in one word – breathtaking. The beauty, the architecture, the history- it was simply amazing. This was one part of the tour I would never forget. Pictures and words do no justice for the abundance of beauty seen at the Vatican. Prepare to be blown away!
| | | |
| --- | --- | --- |
| Inside the Vatican Museum | | The Pietà by Michelangelo in St. Peter's Basilica in Vatican City |
After the tour of the Vatican, Bella "5-Star" and I decided to walk to a bank to exchange money before meeting up with the ladies again. A young man at the counter informed me that I needed to go to a Cambio for change, so we left and hailed a taxi. Once we got to the cambio, I reached in my bag for my wallet and it was gone. I assured myself that I must have forgotten it in the taxi, so I walked back over to the taxi to retrace my steps. Nada! Then it hit me, - Someone must have reached into my bag while I was walking from the bank to the taxi! I don't normally carry large bags, but I made an exception this time which made me a target for pick pocketing. I was disgusted but knew I had to get an emergency passport ASAP or else I would not be able to travel with the Bellas for the rest of the trip. Bella 5-Star was gracious enough to stick by my side as I handled the situation. We called the police and notified them, then made our way to the American Embassy for my new emergency passport. I arrived just as the office was closing, but they agreed to see me since they'd be closed for the upcoming Labor Day holiday. Once again, I thanked my lucky stars.
Over one hour and one Western Union money transfer later, I walked out with my new emergency passport in hand. Whew! After an exhausting start to our afternoon, we decided to stop for dinner at a local ristorante (restaurant) where we met a very friendly affluent couple from Manhattan. Leaving with full bellies, we walked to the nearest police station to file a report on my stolen wallet. Two hours and two closed police stations later, we arrived back to the hotel just in time to get ready and meet the other Bellas for the night of birthday celebrations. An exhausting day would not dampen the opportunity to party our last night in Roma! Nine of the Bellas were celebrating their birthday on tour, and in true Bella Italia style, we celebrated Roman style! We enjoyed delicious Italian food, Italian birthday cakes, Italian wine, and polished off the night by dancing with the Italians until 4:00 am.
| | | |
| --- | --- | --- |
| Italian birthday cake | | The 2009 birthday Bellas |
Like international jet-setters, after a few hours of sleep, we were off to another city with my new passport in hand, where I created many other fabulous memories in Naples, the Isle of Capri and the scenic island of Sicily.
| | | |
| --- | --- | --- |
| Martuciello Vincenzo - a firefighter on the isle of Capri. Isn't he so handsome?! | | Sunset in Taormina, Sicily. |
Overall, my second trip to Italy was nothing like my first trip, which was exactly what I was seeking. Party with the Romans – Check! Dine with the Sicilians – Check! Fall in love in Capri – In progress! See you in Italy.
Ciao Bella!
To view more pictures and videos or for information on joining Bella Italia 2010 this September, visit www.BlackGirlTravel.com/italy
Other all female tours offered in 2010: Spain, France, Egypt and Italy for more details on these tours visit www.BlackGirlTravel.com
---
About Noelle Miller
Krista is 26 years old and resides in Kansas City, Missouri. Holding a Bachelors and Masters degree in Criminal Justice from the University of Central Missouri, she currently works at the national headquarters for a Fortune 100 corporation. She is an avid traveler who enjoys immersion in new cultures and the freedom of traveling. She has traveled to several different countries but still considers Italy her favorite. Krista plans to travel to Italy, Ireland and Greece in 2010 and is currently studying with an Italian tutor. She hopes to become an expat in Italy in the near future.
©Copyright 2014 Blackgirltavel.com, Inc. All rights reserved.
Duplication of any portion of this content is expressly forbidden.


Please forward this to all your fun loving friends!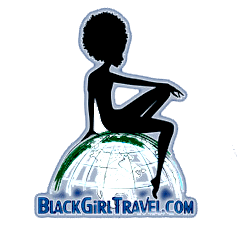 BlackGirlTravel.com
Not Your Grandmother's Tours!