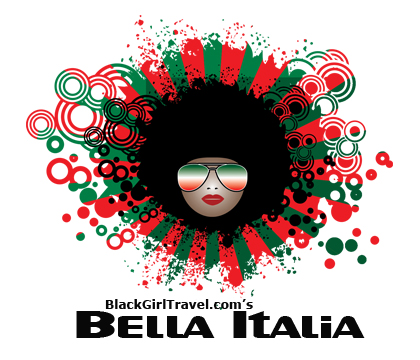 FOR IMMEDIATE RELEASE
Contact: Nicole Peace, 323.252.1779
Five Times a Charm!
Bella Italia Celebrate 5 Years of Serving Black Female Travelers


Pictures from the Bella Italia 2009 tour.
With a four year success of taking over 200 fun-loving, intelligent, black women to Italy, BlackGirlTravel.com and Bella Italia founder Fleace Weaver has done it again! In 2006, Ms. Weaver had a vision of providing inexperienced, novice and seasoned travelers with a unique travel experience that would provide the safety and convenience of group travel with an action packed itinerary at a reasonable price. "My goal is to expose more Black women to the beauty of the world and the world to the beauty of Black women...inside and out" says Weaver.
Each year the whirlwind 10-day all female Italian Get-away is enhanced with new and more exciting activities for the Bellas (travelers). September 2010 will be the 5th year anniversary and Bella Italia is doing it BIG! For the first time the tour will combine highlights of its popular Northern and Southern Italy itineraries. Bella Italia 2010 will begin in the magnificent city of Venice, continuing on to Rome, then travel along the beautiful Amalfi coast to Pompeii, follow by a hydrofoil ride to the isle of Capri and for the first time ever, an overnight cruise to the island of Sicily to visit Catania and the resort town of Taormina. You can be sure that this will be the party boat!
This is not your grandmother's tour! The traveling sisterhood will feature cultural activities such as Gondola rides down the Grand Canal in Venice, visiting the Vatican City to view Michael Angelo's breathtaking Creation of Adam on the ceiling of the Sistine Chapel, the massive Coliseum built in 72BC, and an amazing chairlift to the top of Monte Solaro on Capri, along with one of a kind activities such as a private Vepsa (motor scooter) tour lead by handsome male drivers and a robust nightlife at some of the most exclusive and private nightclubs in Italy. The 2010 anniversary parties will be bigger than ever! Being a Bella has its privileges!

Bella Italia is not only about travel and fun, it's also a cultural exchange between African-American women and the people of Italy. In 2009, BlackGirlTravel.com introduced Sisters without Borders, an initiative to help underprivileged children in the countries visited. In September, the women of Bella Italia 2009 visited Girls Town of Italy, an organization that provides orphans, victims of abuse and human trafficking, with a safe haven along with education, career training and transitional living. The residence of Girls Town were brought to tears and jumped for joy by the donations and gifts given to them by the Bellas. One girl from Ghana was seen continuously rubbing the bracelet given to her by Bella Regina from Los Angeles. By the look of her eyes, you could tell it would be a gift that would be cherished for the rest of her life. The girls also present the Bellas with handmade gifts. This is what international travel is all about!
Tour dates Schedule stops are as follows:
September 7th - 16th
Day 1 - Depart USA
Day 1 - Venice/Tour/Mixer
Day 2 - Rome/Mixer/Night Tour/Party
Day 3 - Rome/Vespa Tour/Mixer/Party
Day 4 - Rome/Tour/Shopping/Party
Day 5 - Pompeii/Capri/Cruise/Ship Mixer
Day 7 - Catania, Sicily/Shopping/Rooftop Mixer
Day 8 - Taormina, Sicily/Tour/All White Party
Day 9 - Sicily/Snorkeling/Dinner
Day 10 - Sicily/USA
This is a chance of a lifetime for friends, sorority, book clubs, mothers and daughters.
For more information on the 2010 Bella Italia tour, pricing and booking, please visit www.BlackGirlTravel.com/italy or call 323.252.1779. Additionally, the website offers photos, video, and stories from previous tours.
About BlackGirlTravel.com
BlackGirlTravel.com is a travel club created by and for extraordinary Black women. BlackGirlTravel.com creates unique customized tours and meeting programs for groups and individuals, designed for young at heart, well-heeled urbanites interested in exploring new lands while indulging in international cuisines, retail therapy, and exciting nightlife. There are no cookie cutter itineraries-each tour is custom designed for the group and its objectives. So, whether you are the seasoned traveler looking for something different or a newbie seeking the security of a group, BlackGirlTravel.com has a tour for you! These are not your grandmother's tours
###